WRITERS TRAINING INSTITUTE
... Enhancing innate Writing Skills.
Training . Publishing . Consulting
The Writers Training Institute (WTI) is the training arm of WTI Communications, a Lagos based publishing/printing and media communications organization concerned with publishing operations, media relations and press works.
The Institute, in affiliation with INNATE COMMUNICATIONS and the MEDIA CAREER DEVT CENTRE undertakes a number of literary development initiatives to enhance literary skills, writing interests and publishing flairs, especially for Freelance Writers, Independent/Aspiring Writers, Self-Publishing Authors and Independent Magazine/Book Publishers.
The organization also offers customized in-house writing/publishing development training for Individuals, Organizations and the publication units of churches, civil society organizations, government establishments or agencies on a range of writing and publishing methodologies and operations.
WTI periodically organizes seminars, workshops and writing/publishing courses tailored to serve specific audiences, but all sharing the same approach that ensures that participants get individual attention on practical steps and approaches to go about in fulfilling their individual writing/publishing aspirations.
TRAINING SPECIFICATION
WTI's range of training spans writing skills development for Creative Writing, Freelancing/Writing for the media, and a special course tailored on the specifics of writing skills applicable to Non-Governmental Organizations (NGOs).
The range of training on publishing spans self-publishing skills for newsletter, magazine, book publishing and publishing online with a special course tailored on specific skills training for multi-media publishing.
TRAINING STYLE
The trainings takes an 'hands on' approach, so our trainees participate in brainstorming sessions, case studies, interactive discussions and other exercises to get them involved in learning the methodology needed for the development of necessary writing skills to manifest their writing interests and passion whether as self-publishing authors, magazine/newsletter writers, including other forms of writing expressions either through print , electronic media or online/multimedia publications.
For Further information, contact:
'FUNMI FALOBI
Director (Programmes), WTI COMMUNICATIONS
C/O Media Career Development Centre,
14 Fadare Street, Off Kayode Street,
Ogba, Lagos-Nigeria.
Email: wtinigeria@yahoo.com
Tel: +234 8053473949; +234 8131083860
...........................................................................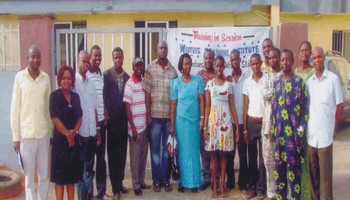 RESOURCE PERSONNEL
WTI draws resources from a wide spectrum of professionals across the media, writing and publishing disciplines, whose experiences and resourcefulness in independent writing, publishing and allied media related operations are highly sought after.
Some of the notable resource persons, amongst a host of other Resource Personnel as Facilitatotors for WTI's trainings, includes;
Mr. Lekan Otufodunrin: Journalist Trainer; Freelance Writer; Former News & Political Editor of Punch Newspaper and presently, Managing Editor, Online, the NATION newspapers, Lagos.
Mr. Lanre Arogundade: Journalist and media development specialist; Director of the International Press Centre (IPC), Lagos.
Mr. Gbenga Osiniake: Publisher/Editor in Chief, CHURCHTIMES Newspaper.
Mr. Dayo Emmanuel: Journalist; Director, NEWS SCREEN MEDIA.
Mr. Francis Abayomi: Biographer; Development Expert; Editorial Board Member, Daily Independent Newspaper; Executive Director, Peace and Development Projects.
Mrs. Funmi Falobi: Adjunct Lecturer, Mass Comm Dept, Yabatech; Editor, Social Development News @ www.sdnonline.net